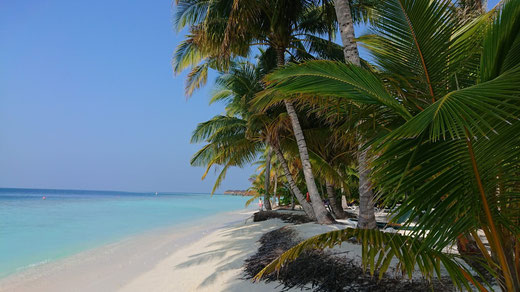 The big pile-ups are gone. For the last few days, I d'ont expect any big ineterresting in AQ7AO. 500+ QSO's are now in the log.
Unfortunatley, my plan to be active in FT-4/FT-8, SSTV and other Digi-Modes are no option an more. My notebook has a problem in Audio-TX over the virtual Audio Cable. Maybe I will find a solution fot the last days, but I think my solution will not working.
Yesterday, after I called CQ for 10 minutes with no takers, I looked around on the passband, who is also qrv on QO-100. Then I heard a young female voice who worked in a little pile-up. It was the voice of the 12 years old (soon 13 years, she told), YL Sophie, DF4QB.
Many stations calling her. I tryed too, but my signal was to quiet for her, or she is not yet familiar with DX signals. She called up for the last qso and I tried again. Then a german station called her and told, that she should have to listen to a quiet signal from the Maldives. Then I got the chance to called her as an DX-Station. She answered and was excited. And yes, she was very happy about that DX.
Lessons learned: It's allways easy to answer the loud stations. But also on QO-100 are sometimes the quiet stations the pearl under the calling stations. Maybe she know now,  that a quiet station can be something special.
For me was a special qso and I liked it. Sophie lives my dream that I had in my childhood. I hope she will like that hobby also in the future.
Some stations asked my about some underwater pictures. So, here is sample of my  photo shoots.