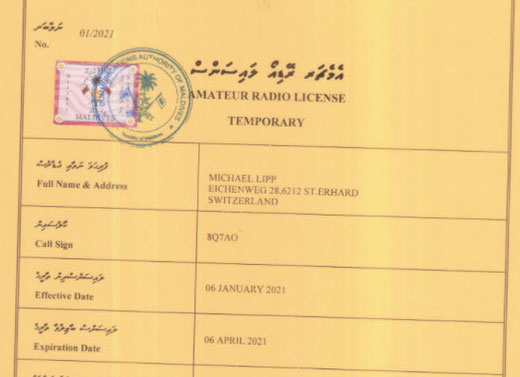 What for an adventure: The money for the license is still underway to the Communication Authorities of the Maldives. I had send the letter with "urgent snail post". But since January first, my documents rest at the Dubai Airport, because there is an national Holiday... Since a week now!
First of all: A big thank you to Mrs Muasooma Hamid from the Communication Authorities of the Maldives for trust in me and get me the license.
And also Big thank you to Mohamed 8Q7RS from the Maldives Amateur Radio Society, for the support in Maldives with the Authorities.
And there is Noel, F6BGC. He was the first activator of the Maldive on QO-100. Thank you for your advice and support to get the "QO-100"-License for Maldives.

So the next step on my adventure will be the Covid test for the travel...